Competitive business environment always requires a high degree of professionalism. Viet Uy Tin – TIN Holdings' privileged translation brand – was established with a mission to provide professional and high-quality multi-lingual translation solutions for global corporations, VNR500, governmental agencies and international translation companies. With more than five-year of hard-work, efforts, experiences and development,  we are proud to have obtained several achievements and market position with high-quality service, as well as gained trust from all partners and clients.
Our services cover a wide-range of document translations, especially translations of technical & specialized fields which require high-quality results, including science & technology, banking & finance, medicine & pharmacy, legal, advertising and marketing. Besides, we also provide professional interpreters for both domestic and international organizations and corporations, including specific seminars, commercial negotiation, and important world-wide events and so on.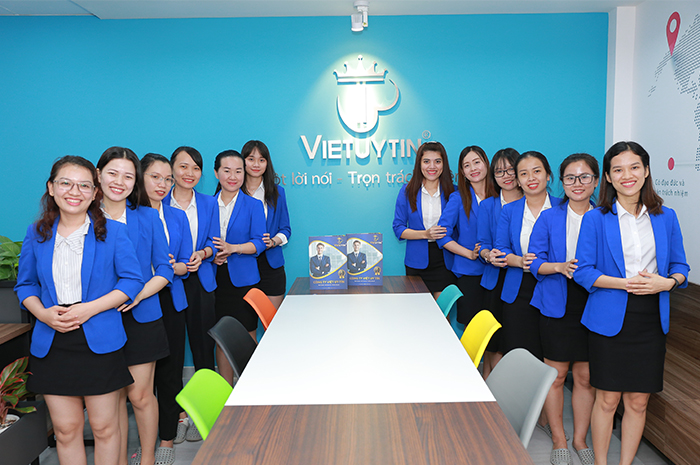 One of Viet Uy Tin's strengths is being able to maintain a powerful network of in-house high-qualified, well-trained and intensively experienced translators/interpreters, together with more than 1,000 brilliant freelancers who are masters, high-ranking specialists, native speakers and trainees with strong knowledge in various fields. We provide translation service in more 50 languages including English, French, German, Italian, Japanese, Chinese, Korean, Spanish, Lao, Thai, Indian, Indonesian, and Arabic and so on. In our long-term development plan, Viet Uy Tin always pay high attention to staff recruitment and training in order to enhance our translation quality as well as gradual service expansion.
Our ability is clearly proved through our list of clients and partners who have been using Viet Uy Tin service, including Ministry of Natural Resources and Environment, Department of External Relations – Ho Chi Minh City, Vietnam National University – Ho Chi Minh City, Abbott Nutrition Vietnam – Representative Office, Sony Electronics Vietnam, POSCO Group (Korea), Unilever Vietnam, National General Construction Consulting Joint Stock Company (Nagecco), Construction Corporation No. 1 (CC1), Viettravel, HP Vietnam, Merck, Hitachi Vietam, SYM, C.T. Group, Yamagata Vietnam, Welocalize and so on. With years of experience in working with extensive partners, we are confident to well respond to all types of demanding and large-scale projects in various fields, as well as to act as a linguistic bridge connecting Vietnam with the rest of the world and assist foreign companies in approach local market.
We commit to provide highest quality and promptest translation services by applying European-standard optimized and closed translation procedure of accepting projects, execution, delivery and payment. We aim to contribute to the mutual benefits of long-term and trust-worthy business cooperation with all clients, which brings highest satisfaction with best competitive cost. We are always willing to respond to all clients' queries and provide free consulting on Viet Uy Tin services.